W h i t b e c k  N o t e s

                             Fall 2017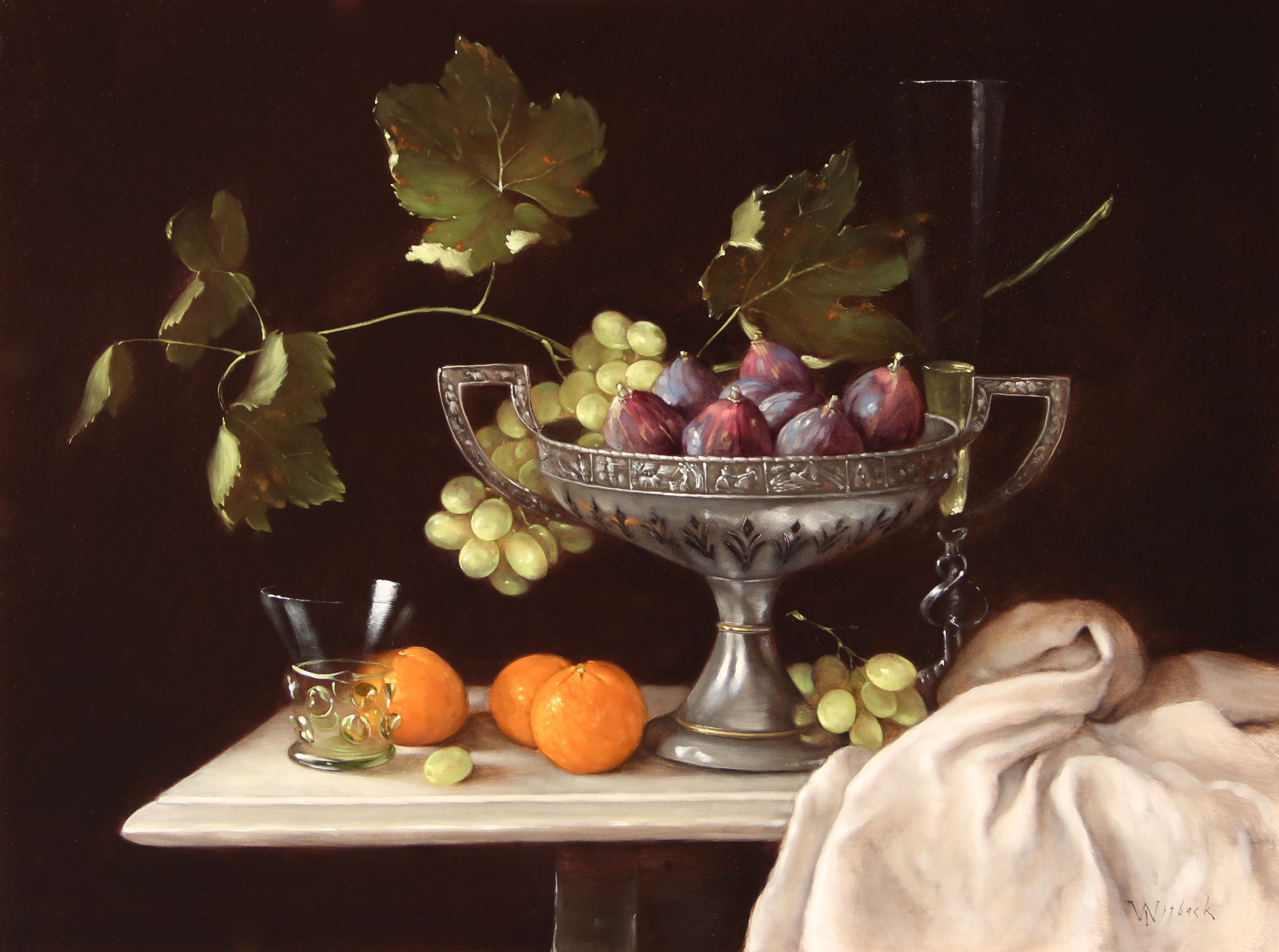 Bowl of Figs

18" x 24"   oil on panel

                                                     Welcome to the Fall 2017 Whitbeck Notes

          For me the 2017 outdoor artshow season has come to an end, finishing with the successful Bethesda Fine Art Show in October. And so, with the change of seasons also comes more studio time which I so look forward to. The patterns and rituals of cold mornings starting the studio fire, sweater and hat sitting at my easel turning into afternoons painting away in the glory of wood heat, in T-shirt and nothing to distract from the canvas in front of me. Greek or Dutch news or TV shows play in the back ground during the morning, but in the afternoon, after all the hours of concentration, music will play, just to get things moving a bit.

          I have a few large canvases ready to go, prepared during the summer. Smooth as can be and toned with a nice gray wash. I was saving these for the fall/winter studio time when I can concentrate and have longer blocks of time to work on all the details that a large canvas demands.

                 I have had my eye on an image from one of my studio books of a Jan Brueghel the Elder flower still life from about 1618. It is an explosion (of the most creative kind of course) of a bouquet of flowers in a large wooden container. I would not even begin to count all the various flowers on this 49" by 37" wooden panel. It looks at first glance like all the blooms were randomly placed, natural. But the more you study the image and break down the flowers in their differing sizes, you begin to see that there for sure is a pattern and a method to this dizzying array of flowers. Just like actors in a play, he has his main characters strategically placed throughout the painting. These are the large flowers with bold colors. Then there are the secondary blooms, a bit smaller , which help support and in a visual way hold up the larger ones. And in between all of these, filling up the empty spaces, are even smaller ones, so delicate, giving the impression of an outdoor flower bed all in one vase.

          For the most part, none of these flowers touch each other. Not in the way a natural bouquet would look. As I had mentioned in the
Spring 2017 Whitbeck Notes
, the Dutch and Flemish
bloemschilders
of this period were concentrating more on the individuality of a flower with all of its beauty and color then with the flower arrangement as a whole. One could identify and name each and every one, from the main players all the way down to the supporting cast. A very colorful scientific study.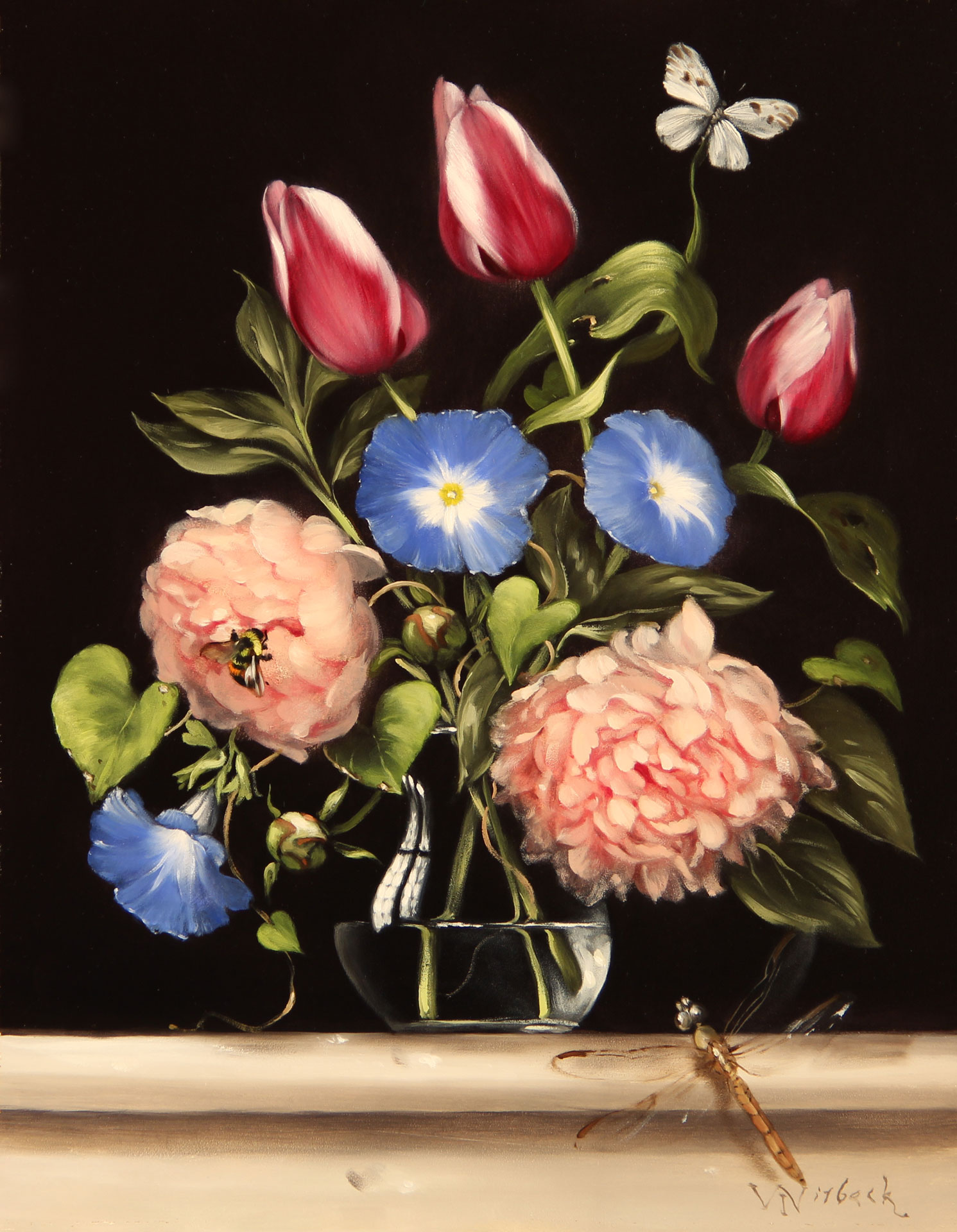 Peonies

18" x 16"   oil on panel

                With this image of inspiration I look forward to placing the first brush strokes on my 40" by 30" canvas. A bit daunting to be sure! For those interested in following along with works in progress, you can find me on Facebook as well as Instagram. I try to post images of various stages of paintings, a behind the scenes look. And so I do plan on posting images of my Brueghel-inspired floral along the way.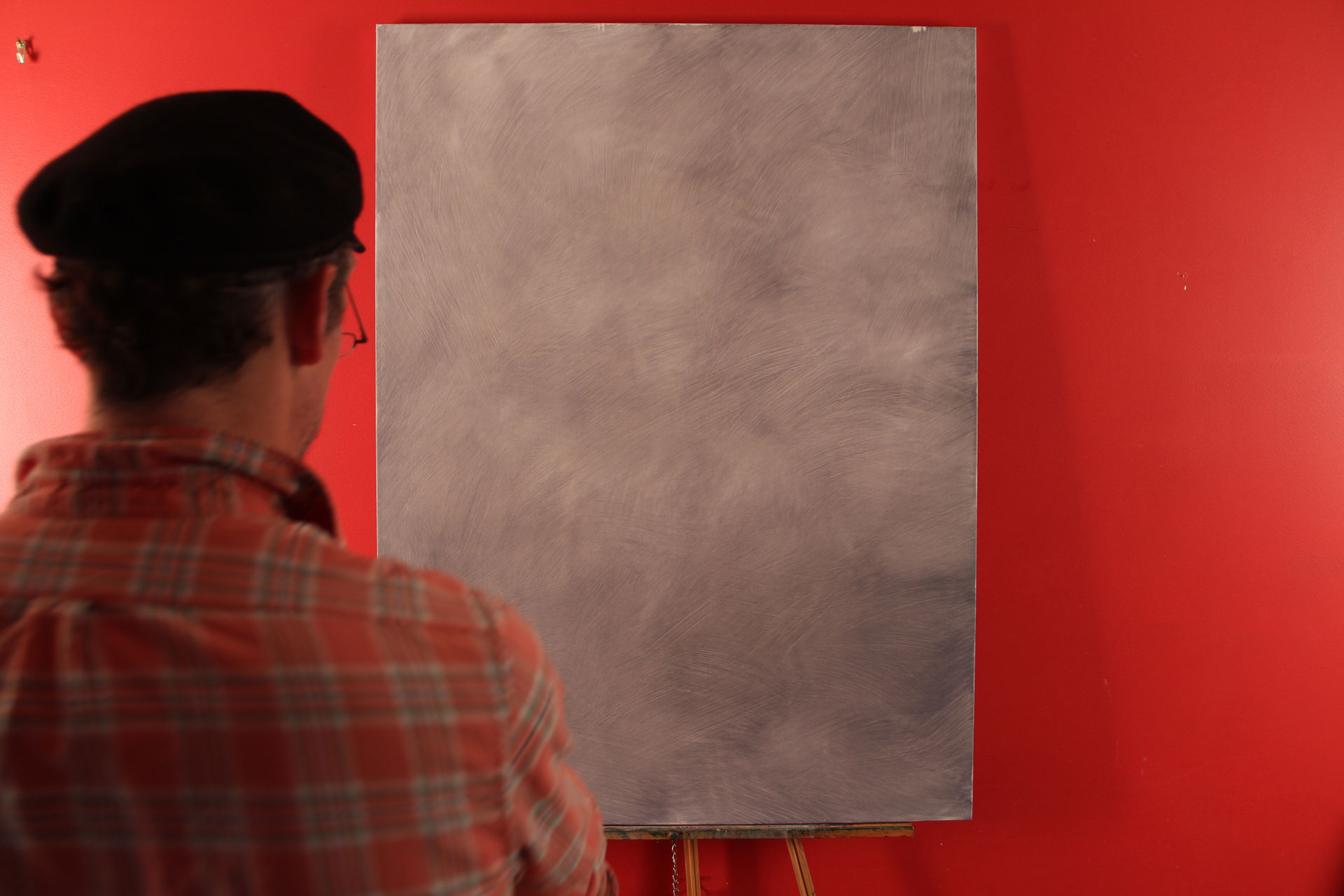 This winters painting season will be cut a bit short in the spring by the addition of a Florida art show tour in March. The start of the month will find us heading south for three weeks of art shows that will be in addition to the may "Chicago Tour". So a very busy spring to be sure! Keep an eye on my website
www.jameswhitbeck.com
to see what's new and where I will be throughout the 2018 art show season.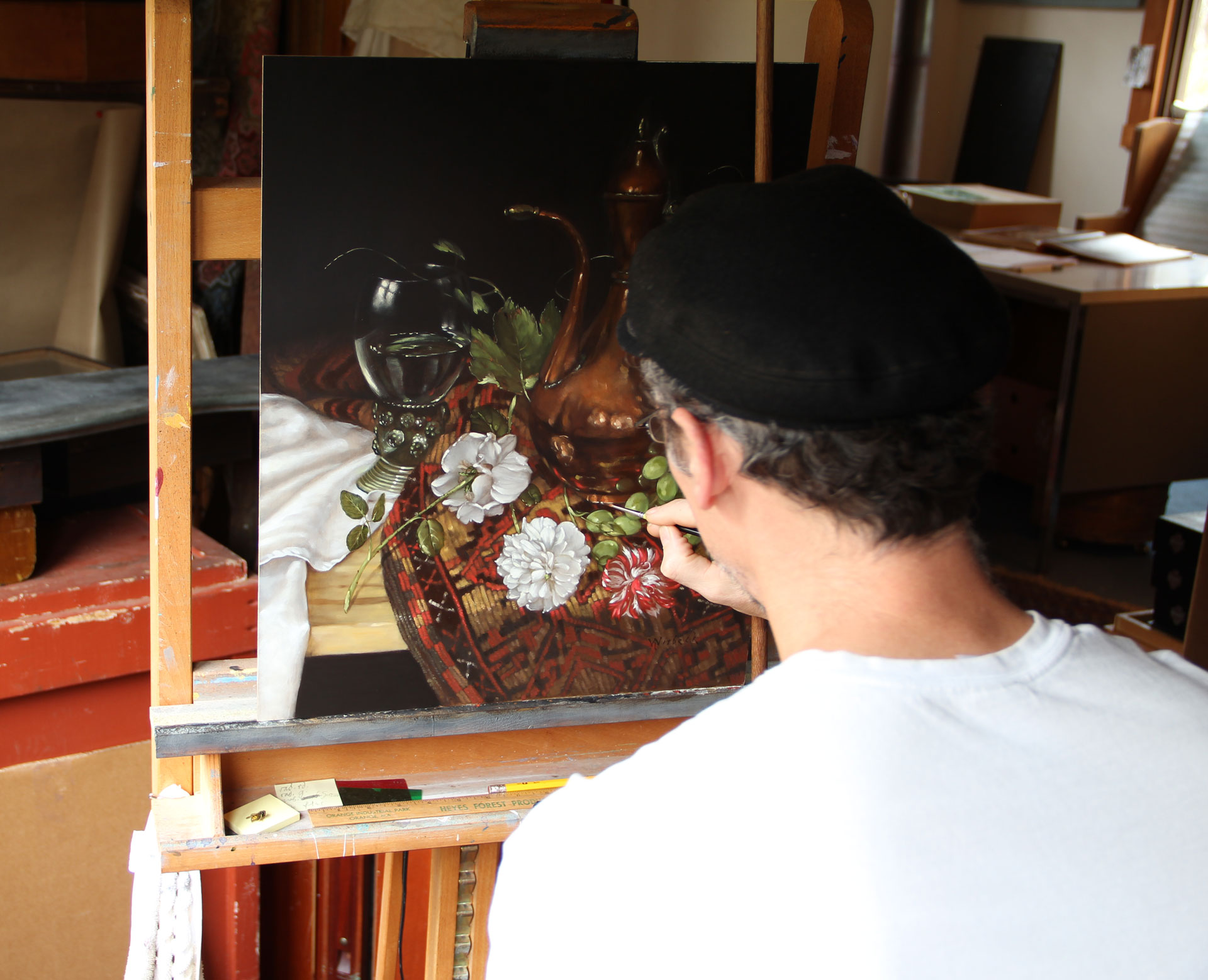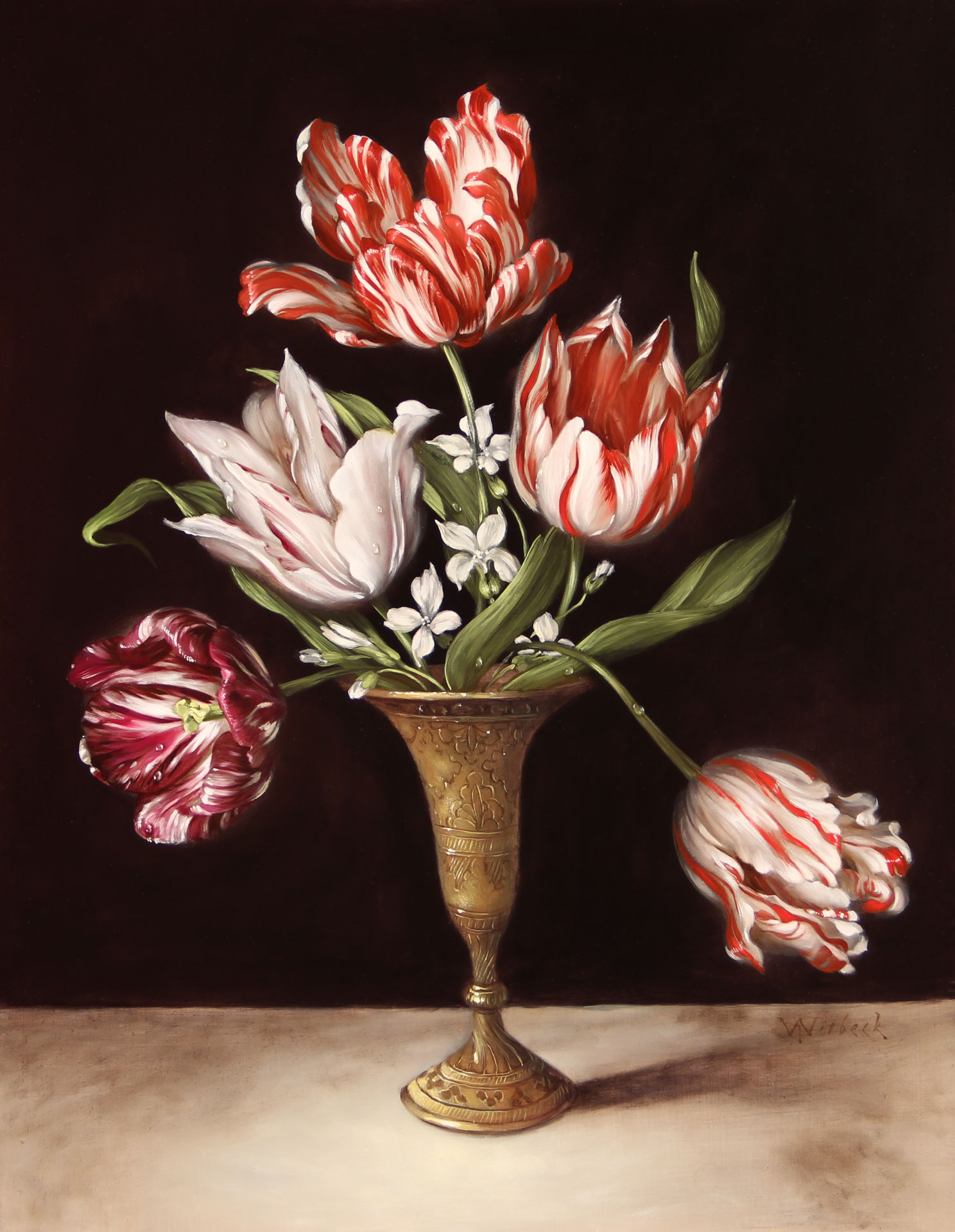 Tulipomania

18" x 14"   oil on panel

All my best,

James Whiteck

413-695-3937

Working on some copper in a new still life.